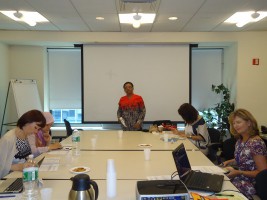 Group Coaching provides a more affordable and at the same time extremely dynamic way to access personal guidance and learning from the interactions between Coach and colleagues. A variety of tools are used to take each participant from one level to the next in both their life and career.
ASK FOR POWERPOINT PRESENTATION ON HOW YOU MAY BOOK MY SERVICES TO
SPEAK TO YOUR TEAM, GROUP, WORKSHOP, ORGANIZATION OR BUSINESS AND TOPICS, CONTENT AND FORMAT.

Custom-made Group Coaching Sessions are created to match the group's defined needs, e.g. teambuilding, change management, peaking performance, job re-design, stress management, goal-setting, vision building, etc.

Social groups, work groups within organizations, brainstorming teams, and associations as well as business/work teams get re-engaged after a series of 2-hour, 1/2 day or full-day workshops or round tables. They identify blocks, strengths, and next steps forward. It could be your group's turn. Why not suggest it? Time should not be wasted.