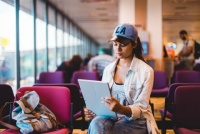 OFFER FOR ALL COACHING CLIENTS
LET ME OFFER YOU A FIRST LIFE/CAREER COACHING SESSION
FOR HALF-AN-HOUR – GETTING TO KNOW YOU
WHAT'S YOUR MAIN PERSONAL CHALLENGE?
HOW OFTEN HAVE YOU FELT THAT YOU COULD DO WITH SOME PROFESSIONAL AND CONFIDENTIAL SUPPORT?
WHICH ARE THE ASPECTS OF YOURSELF IN WHICH YOU WOULD LIKE TO GROW OR EXCEL?
These are just a few of the questions with which we could begin our package and ongoing conversation.___________________  heb@sapiencecoaching.com
Select your day and time each week in advance to support your ongoing coaching needs. This coaching package includes:
Two 15-min. sessions per week = 8 per month. You may schedule one 30-minute session instead.
Email to schedule your first session and get instructions and details for pre-payment for 3 months, 6 months or 9 months.